Old News
Archived news items from March 2005
Since this is old news, some links may be broken.
More recent updates
current news
newer old news from April 2005
Tuesday, 22 March 2005 [10:11 CST]
This weekend, I baked eight loaves of bread. For a charity silent auction at school, I'd put four loves of bread up for bid; they ended up going for $17. And in addition to those, I made four loaves of cinnamon raisin bread: two for the band to have at church Sunday morning, and two for school.
When I wasn't baking, I basically just played The Ocarina of Time, which I still hadn't really started into despite beginning back in early February.
I did take my guitar to the shop and found out that the electronics are just dead, so they'll need to be replaced. After a couple of emails to Washburn (who made the guitar) and Fishman (who made the electronics), it seems the most expedient route will be picking up one out of the Prefix series of Fishman pre-amps, which should be a drop-in replacement for the one I've currently got. Depending on how much I want to spend, I could get a much nicer one, but since the prices start at roughly $200, I'm not sure.
The most unusual thing that happened, though, was yesterday. As I was leaving for work, I locked my apartment door and the key snapped clean off, leaving the "business end" of the key still inside the locking mechanism. (Photos courtesy of the 0.3 Mpixel camera in my CLIÉ.)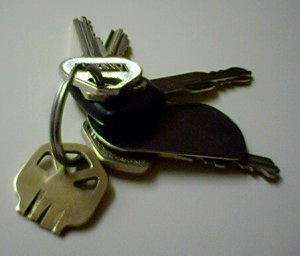 Not having time to deal with it and also being suddenly locked out of my apartment, I just went ahead to work.
Once at work, I called my apartment office to let them know. During the day they changed the lock and had a new key for me in the office. However, I didn't get home until after they'd closed for the day. Fortunately, I'd left the door to my balcony unlocked, and I can do a pull-up, so I was able to get in. From the ground to the top of my second-floor railing is fourteen and a half feet, and from the top of my downstairs neighbor's railing to the closest hand-hold on my floor is a little over seven feet. (Photo is from this morning, as I left for work again.)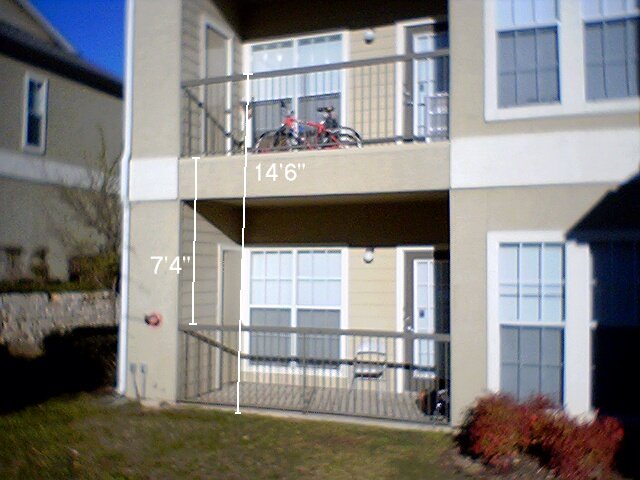 I wasn't completely sure I could make it up just looking at things, but it turns out I could. So I was able to sleep in my bed rather than my car, which is always nice.
And it also turns out that they didn't have to change the lock; they just got out the piece of key, so my spare key (which was in my apartment) works. This is important in case I don't get home tonight before the office closes.
Wednesday, 16 March 2005 [20:38 CST]
I just got home from spending a couple of days in East Texas because it's my Spring Break this week. I watched the mildly entertaining The Forgotten, and the just-released (and much, much better) The Incredibles.
I also got to just hang out and relax with my parents on Monday and my brother on Tuesday. And, of course, about ten hours of driving, all told.
The biggest surprise was my birthday present from my parents, which is the more suprising for being over three months early. They took my car into the shop in put in four new speakers and a nice JVC car stereo with a CD player that plays mp3s, WMAs, and also has a line-in so I can pipe in Vorbis audio from my CLIE.
It certainly made the drive home easier, since Dad had made me a test mp3 CD with ten albums of classic rock and blues to listen to.
And for Easter, Mom got me Zoolander and Aqua Teen Hunger Force: volume 3 on DVD. I think they're out in the mailbox, but I haven't fetched them yet, since I just got home.
Anyway, I'm tired and just looking forward to doing nothing for the rest of Spring Break.
Tuesday, 8 March 2005 [20:58 CST]
First, I'd like to start off my first update in way too long with a quote from my longtime friend Chase, who you should remember is now a doctor. He's giving advice about my slow dating pace:
Watching and waiting is good for some things, like mild abdominal pain or anemia, but for finding your soulmate you know my take. Get out there, roll the dice and see what happens. If it isn't there, then move on. You could spend quite a bit of time waiting until the timing is "right".
Mild abdominal pain, indeed.
Some of you know that I was trying to sell my old car, a 1991 Toyota Corolla. This is because around Thanksgiving my parents offered to sell me one of their old cars (this a 1996 Honda Accord LX in great condition) for an incredibly low price. It was an offer I couldn't refuse, so I bought it then with money out of savings.
Well, I finally got around to putting an ad in the Greensheet for the Corolla, and I got a whole lot of calls. I didn't do a very good job calling people back (because I generally dislike the phone, and especially so when it's talking to strangers), but eventually I connected with an actual live person with money, and after coming out to look at the car and taking it for a test drive, he handed over $1500 cash on the spot.
So that's done, and I'm glad to have it over with. I can highly recommend the Greensheet, though, if you want to sell something in the Austin area. I'd pre-paid for three weeks, and sold it after one and a half, so I called them to cancel the ad for the final week and they did so and even refunded my money!
With the extra cash (including my usually-substantial tax return), I got some books from Amazon.com this morning. The first is Dive Into Python, which I've been working through. And let me tell you, Python seems like a really cool language. A very nice, regular syntax, a powerful object model and cool builtin functionality and libraries mean that my next major programming project will probably be in Python. Maybe I should rename one of my cats!
The second book was the Tassajara Bread book, which came highly recommended by former math tutoree Jesse and the rest of the Bertrons.
I have since made no less than six loaves of bread using the detailed version of the primary yeasted bread recipe. It is good stuff. I've been bringing it to school and my kids wolf it down (so that a whole loaf lasts usually about one period). It's also been a hit at church, where the worship team has been eating it for breakfast.
It's not hard to make, but it is long, about five or six hours, all told. Now, only about an hour of that involves actual work; the rest of the time is waiting for it to rise. It rises a total of four times, and it's worth the wait.
I am just about to the point where I can make the basic recipe without having to look at the directions, which is a feat for such as me. And then I'll be ready to try one of the dozens of variations in the book as well.
My next project (after selling the car and baking bread) for the past month has been trying to get a system set up for being up to grade Computer Science assignments at home. Now, they're just small text files and Java works the same on Linux as on Windows, so compatibility, per se, hasn't been the issue.
The issue is quantity. I got about two weeks behind on grading at some point there, and once I zipped up all the files in the "submit drive" and brought them home, I had over eight hundred separate assignments to grade. Each in its own little digital file. In subfolders for each student, and those grouped by class period.
When you're talking about having to grade 800+ files, the speed of the workflow is CRUCIAL. It only takes me about 2-4 seconds (really) to scan a program with my eyes and decide if it's correct or not, and then mark that on a sheet of paper. If it's not correct, it takes quite a bit longer to put comments at the top explaining what went wrong, but fortunately most assignments, once turned in are correct.
At school, my workflow is such that it takes less than a second to move from one assignment to the next for a given student. And when changing students, there's about another two seconds or so of overhead. For changing classes, maybe five more. Once I'm done, it takes about five minutes to recopy all the grades from my piece of paper into the computer.
Once you put everything together, I can grade 800+ assignments in two or three hours at school, if I don't get distracted and hit on all cylinders. This is annoying, but not terrible.
The problem is, I'm not always very focused when I'm sitting down on a Tuesday evening at school after I've already been at work all day to try to put in three hours of grading. And so the three hours takes longer, just because I'm tired of being at work.
However, I've never been able to grade well at home because the workflow (because of the different text editor and OS) isn't nearly as fast. In a normal situation, I was taking maybe two seconds to switch between assignments, and a full ten or fifteen seconds to switch between students. Not to mention I couldn't easily produce gradesheets to write down scores on.
Once you add all these things in, grading time would blow up from two or three hours into something like six or seven. And that's no fun. I'm more likely to be focused at home, but doubling my grading load was simply not an option.
Anyway, the last two weekends, when I'm not making bread, I've been working on optimizing my workflow to grade at home. First, I switched to Bluefish as my text editor. It's not quite as fast for multiple-file editing as TextPad at first, but thanks to its scripting support and with a few cleverly-written perl and shell scripts I've got it humming pretty quickly now. Some things are slower, still, but others are faster.
I can put the comment header at the top of a less-than-perfect assignment with a single click, and similarly rename all of the file containing my comments and erase all the other files with another single click.
Next, I wrote a perl script (since I don't know enough Python yet for such things) to parse through the "submit drive" folders and automatically create a grade sheet with just the boxes for the assignments that had been turned in then.
This was really helpful, except that when I got to school to key those in, my gradebook at school had more rows and more columns. So I had to spend a lot of time hunting to figure out which columns and/or rows needed to be skipped. This changed the recipe from just monkey recopying to actually having to involve my brain.
So I modified the thing to also create an identical web form, with most of the grades already entered in as "perfect", so that once the paper was filled in, I can just blindy re-key from the paper to the form. It takes like 60 seconds. Then I can click the submit button and get a file which can be automagically imported into my existing gradebook, with just another minute or so of massaging.
So now keying in the grades takes even less time than before. Heh.
Other news items of note include going bowling with my small group, watching the excellent Ray, and finishing the seventh and final book in the Dark Tower series, which I've been reading since high school.
This weekend they were having a sale at my local Family Christian bookstore, so while waiting for my dough to rise at one point, I picked up Derek Webb's new album (I See Things Upside Down) and TobyMac's debut album (Momentum) for $8 each. I also grabbed Sarah Masen's See Us Through out of the bargain bin for $7, and Pilgrim's Progress (the book) on sale for $5. All three albums are pretty good, but I haven't started in on the book yet.
Whew. I need to update more often.
Older "news"
February 2005
archive index (for dates back to March 1998)